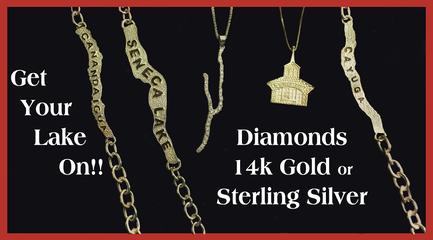 Exclusively available at The Gold Silver & Diamond Store!
FLX Jewelry
Get your lake on with our custom made FLX Jewelry! Available in
14k Gold, Sterling Silver with brushed or shined finish and Diamond.
Bracelets or Necklaces
Current Lake Collections:
Seneca Lake
Keuka Lake
Cayuga Lake
Canandaigua Lake
ONLINE STORE COMING SOON!
---
We are the oldest Gold buying store in the area!!
We have the largest selection of Colored Stones and
Antique Jewelry in the Southern Tier!!
PLEASE STOP IN!!!
2360 Corning Road (The Miracle Mile)
Elmira Heights NY 14903
607-733-8049
Web Hosting powered by Network Solutions®